EXHIBITOR WITH NATURAL STONES
The display with Natural Stones made for you by Voganto consists of 25 compartments, which will help your customers to easily choose the perfect stone for their needs, also thanks to the information leaflets included in the display (10 for each type) on the which are reported the benefits and use of each stone.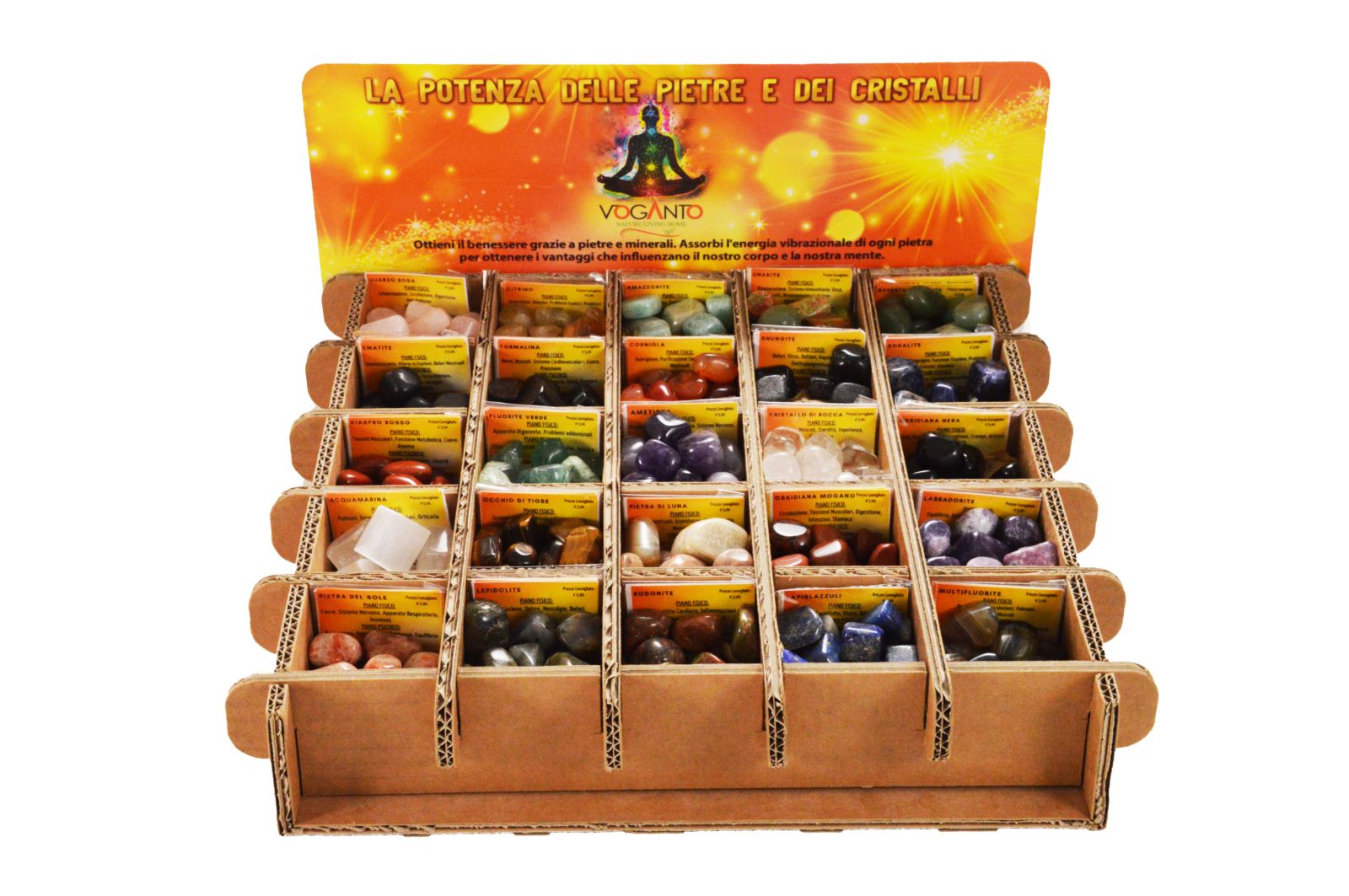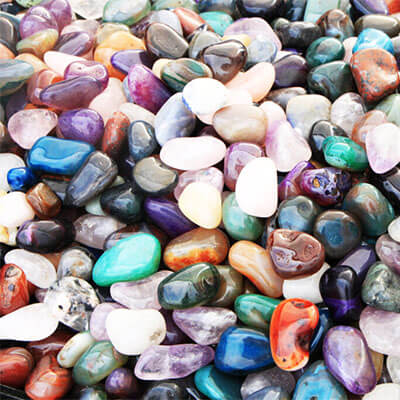 WHY INCLUDE THEM IN YOUR OFFER: these are items that attract customers, those who are experts in the field of stones and crystal therapy but also those who are not yet familiar with this world. They sell easily, constantly and rarely does the customer buy a single piece. The profit is considerable, especially considering that the space occupied by this merchandise in the store is very minimal.
In addition to the display, the product includes 25 different types of tumbled stones including:
ROSE QUARTZ (helps regulate and calm breathing, promotes blood circulation and the elimination of toxins)
AMETHYST (promotes sleep, protecting from nightmares)
ROCK CRYSTAL (relieves muscle tension)
GREEN AVENTURINE (acting on stress and anxiety tachycardia)
PIETRA DI LUNA (promotes fertility and protects women during pregnancy and breastfeeding)
RED JASPER (strengthens the heart and can be a valuable ally against anemia)
STONE OF THE SUN (acts on the heart, nervous system and respiratory system, helping in case of allergies)
LABRADORITE (helps restore the body's balance)
LAPISLAZZULI (acts on disorders such as migraine, sore throat, insomnia and various forms of allergy)
UNAKITE (regenerates and strengthens the body)
AMAZONITE (also strengthens the immune and circulatory systems)
MAHOGANY OBSIDIAN (improves the functioning of the digestive system)
SODALITE (promotes sleep, protecting from nightmares)
BLACK OBSIDIAN (relieves pain related to rheumatism, cramps and arthrosis)
HEMATITIS (helps detoxify the liver and relieve eye irritation and conjunctivitis)
LEPIDOLITE (has purifying and detoxifying properties)
EYE OF TIGER (acts on the nervous system by reducing mental fatigue and stress)
GREEN FLUORITE (useful for remedying disorders affecting the intestine)
CITRINE (tones the whole body, also increasing its energy)
CARNELIAN (used to stop bleeding and accelerate wound healing)
BLACK TOURMALINE (has revitalizing properties on nerves and muscles)
SELENITE (strengthens the muscular system)
MULTIFLUORITE (linked to the health of teeth, bones and joints)
RHODONITE (helps to calm down and decrease stress)
SHUNGITE (has powerful pain relieving, antiviral and antibacterial properties)
It is statistically proven that the use of displays, increasing the visibility of the products, increases their sales, and makes the customer remember the product at the time of repurchase.
RECOMMENDED SELLING PRICE: 1 stone € 4.00; 3 stones € 10.00.
The exhibitor contains about 500 stones